Kendall's '12 Days of Caring' is a holiday event designed to give back to the markets we serve through a variety of outreach activities centered around our customers, the community, and our employees. Each year, we spend 12 days focusing on our Kendall Cares mission, giving back to local-non-profit organizations, and showing appreciation for our customers and employees.
To get a better idea of what we have in store, let's get this sleigh on the road!
Follow us on Facebook for daily updates.
Giving back to our customers, the community, & coworkers!
KENDALL BEND'S 12 DAYS OF CARING
Monday,
Dec. 5
Help our local community find the perfect gift for their loved ones by making a toy or gift donation at any Kendall Bend dealership! We will be collecting donations until December 12th, when the Kendall Elves will deliver the toys to the Giving Plates' Jingle Store.
The Jingle Store will be open to the community at the River House on December 16th and 17th.
Tuesday,
Dec. 6
We are thankful for our customers, which is why we are filling their tanks full!
Wednesday,
Dec. 7
Let's be honest, most of us are just here for the Holiday cookies.
We are inviting our Kendall Bend employees to bake their best holiday treat to share with their coworkers. Not to mention, the best baker from each rooftop will receive some Holiday cash!
Thursday,
Dec. 8
Wait, but first, let me drink my coffee.
We love you as much as you love coffee, which is why we will be purchasing coffee for our customers around town!
Friday,
Dec. 9
Yule have to excuse our ugly sweaters…
We are inviting our staff to join us in our annual ugly sweater competition! Ugliest sweater under each rooftop will receive a prize, and the bragging rights of owning the ugliest sweater.
Saturday,
Dec. 10
We love the Holiday season a watt, which is why we will be joining the Prineville community in the Annual Lighted Christmas Parade!
Find your Kendall Ford of Prineville crew in a Ford Lightning, with the Grinch driving the sleigh!
Sunday,
Dec. 11
Dear Santa, all I ask for this year is a brunch with my Kendall family. And maybe a brand-new car from any Kendall Auto Bend dealership if I made the nice list this year.
We are celebrating our staff and their hard work over the year with a brunch! Kendall team members will be joining us for pancakes, ornament decorating, photos with Santa, and more!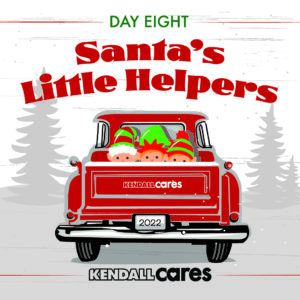 Monday,
Dec. 12
We are celebrating all the amazing kids and families at the Ronald McDonald House and at St. Charles this year by delivering stockings! The holidays are a stressful time, especially when your loved ones are traveling for medical care. The Kendall Auto team called Santa to make sure he could stop by the Ronald McDonald House a bit early to spread the magic!
Tuesday,
Dec. 13
There's snow place like our Kendall Bend dealerships, especially when they have Christmas lights on them!
Wednesday,
Dec. 14
We are inviting our Kendall Bend team to participate in a White Elephant Gift exchange!
Show us your best "pretend like you like it face" and spread the joy through giving gifts.
Thursday,
Dec. 15
Kendall's Elves will load up the car to deliver all gifts & toys to the Jingle Store! Join the Giving Plate at the River House on December 16th & 17th for this awesome event.
Friday,
Dec. 16
Oh deer, it's the last day of 12 Days of Caring. 
All Kendall Bend employees will receive one raffle ticket each day they participate in 12 Days of Caring to win an electric ride-on car! Winners will have the BEST gift to give to a little loved one.